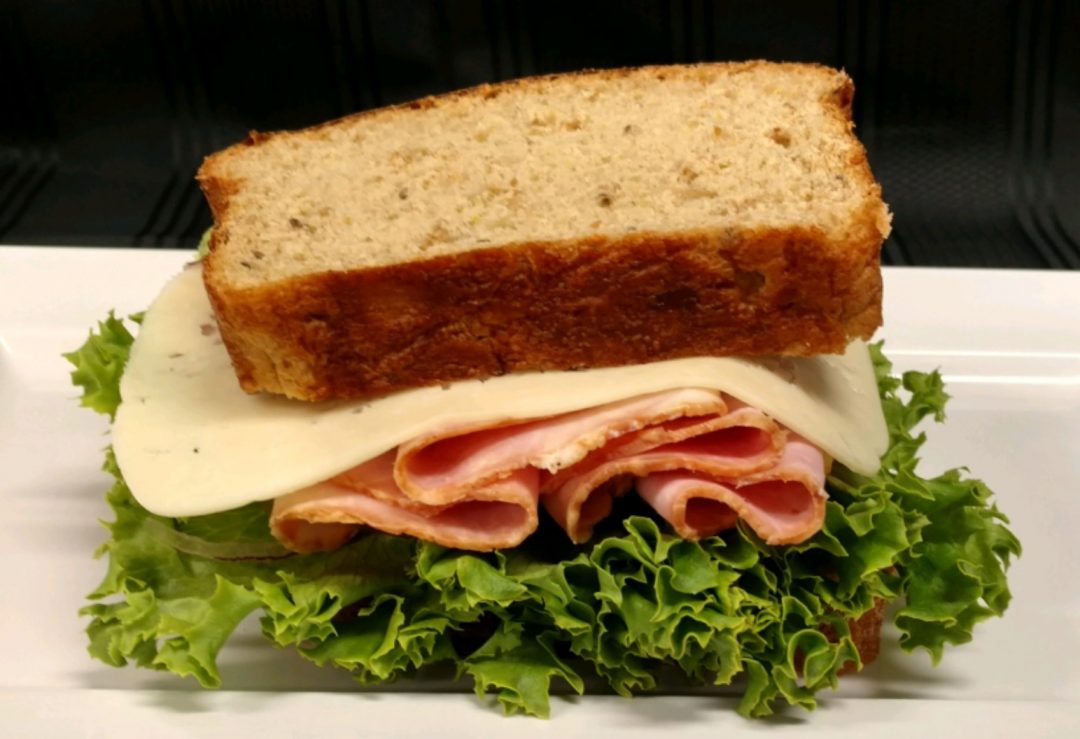 REGULAR SANDWICHES
Choice of Ham, Turkey, or Roast Beef
Choice of White, Wheat, or Six Grain breads.
Choice of Cheddar, Provolone, and Swiss.
All come with Romaine Lettuce, Tomato, Red Onion, Banana Peppers, Dill Pickle Slices, and Six Pepper Mayo.
SPECIALTY SANDWICHES
ITALIAN FOCCACIA
Lebanon Beef Bologna, Provolone, Romaine Lettuce, Red Onion, and Banana Peppers on a Italian Sun-dried Tomato Roll with a side of Italian Dressing.
REUBEN
Corned Beef, Swiss Cheese, and Sauerkraut on Rye with a side of Thousand Island.
LANGLAND ITALIAN SUB
Ham, Hard Salami, Pepperoni, Provolone, Romaine Lettuce, Red Onion, and Banana Pepper with a side of Italian Dressing.
SALADS
Salads are made in-house with fresh, crisp produce and meats. Choose from a Personal Size or Large Salad.
CHEF SALAD
Ham, Turkey, Cheddar, Provolone, Hard Boiled Egg, Romaine Lettuce, and Tomato. Comes with a side of Ranch Dressing.
CHICKEN CEASAR
Cold Rotisserie Chicken, Fancy Parmesan Cheese, and Romaine Lettuce. Comes with sides of Crotons and Ceasar Dressing.
WRAPS
Choice of Flour, Spinach, and Tomato Wrap.
AMERICAN CLUB
Ham, Turkey, Bacon, Cheddar Cheese, Lettuce, Tomato, and Mayo.
CHICKEN BACON RANCH
Cold Rotisserie Chicken, Bacon, Mozzarella Cheese, ranch Dressing.
CHICKEN CEASAR
Cold Rotisserie Chicken, Fancy Parmesan Cheese, Caesar Dressing.
BREADS
WHITE
WHEAT
RYE
SIX GRAIN
ENGLISH MUFFIN
FRENCH BREAD
SOURDOUGH
CIABATTA
VIENNA
BOLLILO
DINNER ROLLS
KAISER ROLLS
HOT DOG BUNS
HAMBURGER BUNS
BRAT BUNS
Fresh Baked Goods
Self-serve baked goods made fresh daily!
Doughnuts
Cinnamon Rolls
Muffins
Blueberry
Banana
Lemon
Double Chocolate Chip
Cookies
Chocolate Chip
Monster
Peanut Butter Chunky Chocolate
White Chocolate Macadamia
Oatmeal Raisin
Salted Caramel Chocolate Chip
Double Chocolate Chocolate
Pastries
TURNOVERS
Apple
Blueberry
Cherry
Raspberry
STRUDEL BITES
Apple
Blueberry
Cherry
Strawberry Cream Cheese
Pies
(Available in whole pies, 1/2 pies, and slices)
Apple Crumb
Apple
Pecan
Cherry
Strawberry Rhubarb
Pumpkin
Hot Case
EZ Market's Signature Pizza by the slice or special order one to go! House Recipe Broasted Chicken: wings, thighs and drums Naked Cheeseburgers Fish Sandwich (Fridays Only) Breakfast Sandwiches Sausage, Ham, or Bacon with Egg and American Cheese on Croissants Sausage, Biscuit, and Sausage Gravy
Sides
Mashed potato and gravy
Macaroni and cheese
Baked beans
Potato Wedges
Deviled Eggs
Pickle Wraps
Deli Salads
Coleslaw
Tomato Basil Couscous Salad
Sicilian Pasta Salad
Steakhouse Potato Salad
Macaroni Salad
Greek Pasta Salad
Sour Cream & Cheddar Pasta Salad
Cucumber Salad
Taco Pasta Salad
Bacon Ranch Pasta Salad
Rotelli Pasta
Sweet Zesty Peppers
Cajun Krab Dip
Smoked Salmon Dip
Mexicali Dip
Fresh Speciality Selections
Hand-cut Fresh Daily: Check out our daily meat selections including our homemade bratwursts and sausages. We carry nothing but USDA Choice Angus Beef, all natural pork, and all natural chicken. Special Order: We special order custom cuts of meat. Ask our butcher, Dennis Obermiller, about your favorite cuts for your next gathering or party. Pairings: Pair your meal selections with our vast selection of regional and global craft beer and wines.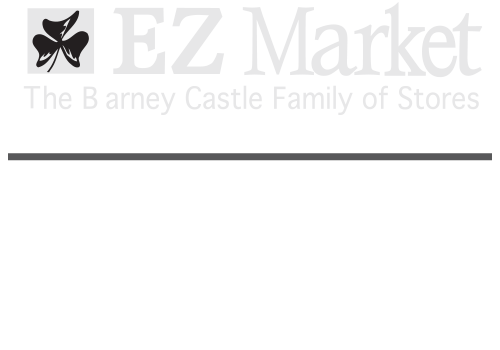 Hours
Store - Daily 6 am to 10 pm
Deli Counter - Daily 6 am to 9 pm
Pizza Orders - Daily 6 am to 9 pm
Meat Counter - Daily 8 am to 8 pm
Meat Cutter - Daily 8 am to 4 pm
Location
5357 Main Street, Onekama, MI 49675